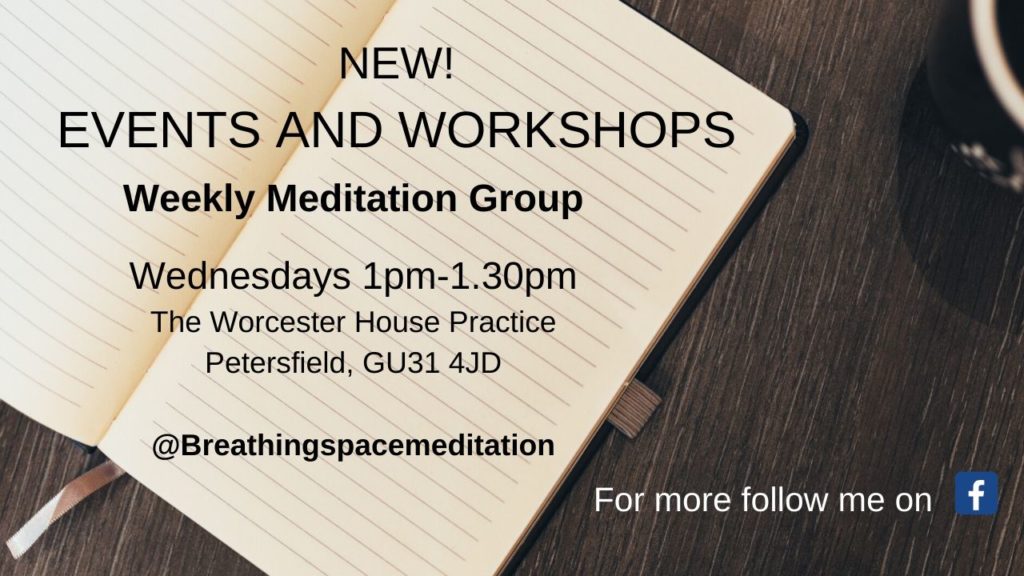 WEEKLY MEDITATION
I am the founder of Breathing Space Meditation and hold a weekly meditation group on Wednesdays at 1pm (finishes 1.30pm) at the Worcester House Practice in Petersfield, GU31 4JD. The meditation group is suitable for new and experienced meditators. Suggested £5.
I also share blogs and research about the benefits of meditation on the Breathing Space Meditation facebook page: @Breathingspacemeditation
EVENTS
I regularly attend events where I offer sample sessions of Cognitive Hypnotherapy and other therapies. To find out about when and where I will be please follow my on facebook: @fauzknightCH.
WORKSHOPS
Grow your Confidence
A workshop for anyone wanting more confidence in some aspect of their lives. I will teach you quick and easy Cognitive Hypnotherapy techniques to access instant confidence when you need it! This can be for people who want to improve their social confidence, or want to experience confidence at work, stand out at public speaking, or overcome competition nerves.
Shrink your Pain
Learn about how to live well with chronic pain. Building on research I carried out for the University of Oxford in 2009 I will talk about how to find a new way of living that reduces the impact of pain and gives you a fuller experience of life. I will also teach you techniques to reduce or turn off your pain when you need to. This will combine meditation work with techniques from Neurolinguistic programming and hypnotherapy.
Manifest Your Goals
Do you have a goal or many goals that seem out of reach? Do you feel as if something is holding you back, or muddying the water? Do you always have something else to do and never get around to what really matters? When subconscious blocks are getting in the way of you moving forward, it can feel like no matter how hard you try, your goal is always illusive. This course will help you to unpack what is in the way and set out achievable and meaningful targets to get you where you want to be. It will also address any subconscious blocks you have that are taking up your valuable energy and time so that you are free to flow into your future as you wish to see it.
If you are interested in any of these workshops please contact me for dates: contact@fauzknight.com